It is that time of the year when Diwali festival is round the corner. What is the folklore behind this timeless celebration? Diwali diyas, diwali rangoli, sweets, new clothes - there is so much to get ready for Diwali 2022. Find out more about Deepavali- festival of lights.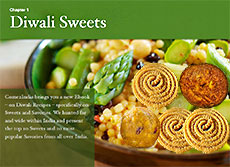 Top 20 Diwali Recipes - Free Ebook
Diwali - festival of light

Diwali or Deepavali or Deepawali is one of the most widely celebrated festivals in India. Diwali or Deepavali means row of lights in Sanskrit. This festival is marked by joyous celebration all over the country. Diwali comes in the lunar month of Kartika or (Karthigai in Tamil)(in October/November) every year.
Deepavali - the festival of lights is celebrated by people of Indian origin in Thailand, Sri Lanka and Malaysia too. Indians all over the world celebrate Diwali date as a special occassion. Sweets, crackers, diyas, rangolis, gifts - Deepavali has come to be associated with these.
Many Hindus start their financial new year on the auspicious occasion of Diwali. Exchanging gifts and wearing new clothes is also synonymous with Diwali- festival of lights. Deepavali is associated with the triumph of good over evil. There are two legends behind the Diwali festival. It is supposed to signify the return of King Rama, his wife Sita and brother Lakshmana to Ayodhya after an exile of 14 years. Diwali - festival of lights was meant to commemorate his triumph over Ravana.
The festival of lights is symbolic of the lifting of spiritual darkness. Another popular legend is the vanquishing of Narakasura, the evil demon. Lord Krishna was challenged to battle by Narakasura and after two days of fierce battle, the demon was killed at dawn on Narakachaturdashi. Diwali festival holds great significance for the Jains since it was the time that Mahaveera attained Nirvana.
Celebrating Diwali

Over the years, Diwali has become more of a social celebration. It has come to stay as an occasion when the family sits down together for prayer, meet friends and relatives and distribute sweets. In the northern part of India, Diwali festival is celebrated over four days. Dhanteras - This day of Diwali holds great significance to the business community.
Traditional Diwali rangolis find place at doorsteps. Deepavali diyas or lamps burn brightly to welcome Lakshmi. Doorways are strung with brightly colored marigolds and mango leaves. Lamps are kept burning all through the night. It is considered auspicious to buy some gold or silver on this day. Lakshmi Puja is performed to worship the Goddess. This puja is traditionally performed in the evening after sunset.
In southern India, Diwali begins in the wee hours of the morning with a bath with scented sandalwood paste. New clothes are worn and crackers are burst at the crack of dawn. Cattle are venerated in the villages as they are considered an incarnation of Goddess Lakshmi.
Children and adults alike will be looking forward to celebrating Diwali. There will be new clothes and firecrackers to buy, sweets to make and gifts to shop for. The days leading to the festival see hectic activity in most houses. It is a time for spring-cleaning to ring in the New Year and welcome the Goddess into the home and heart. The delicious smell of home-made sweets and savories waft through the air.
Diwali diya

What a pretty site the simple yet elegant Diwali diyas make on a dark night! The traditional mud diyas have now undergone a transformation. The market is flooded with artistically decorated and crafted diyas. Embellished with mirrors and zari and filled with colored wax, diwali diyas are a sight to behold. Deepavali diyas also make wonderful gift items. Ethnic designs, etching and gaily-painted diyas add to the festive spirit.
Diwali rangoli

Diwali rangoli motifs are colorful and attractive and are specific to different regions. Though many of the Diwali rangolis are circular, many patterns reflect zodiac symbols or geometric patterns forming the lotus. Conch shell, footprints, swastik and birds are also used in Diwali rangolis. Rangolis during Deepavali are made of white powder or rice flour. Colorful diwali rangolis adorn most houses during this festive season.