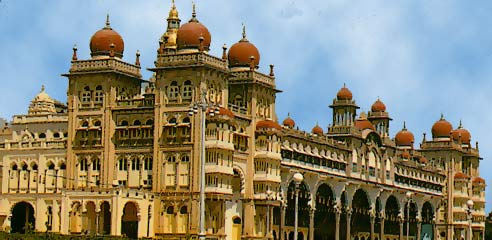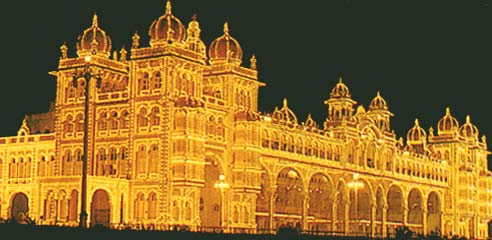 Mysore Palace
Mysore is a city basking in the glory of past Kings and their magnificent palaces. This city, about 135 km away from Bangalore - the Silicon valley of India (also the capital of the state Karnataka), is called as the "Sandalwood City" for its predominant occupation of crafts and scents associated with the fragrant sandalwood.
The image of the Mysore palace in this page shows the pomp and grandeur (with the Royal patronage) during the annual Dusserah festivities. A visit to the Mysore Palace would also include a peek at the royal costumes, jewelry and paintings of the Wodeyars. The display of gold jewelry here is said to be among the biggest in the country. The 200 kg royal throne made in gold can be seen during the annual Dussehra display.
Mysore is equally synonymous with exquisite silk sarees and handicrafts. If you seek some memorabilia or some handicraft - typically wooden carvings of animals or cast figurines depicting nubile nymphs dispensing sandalwood powder, take a peek at the village "chennapatna".
Temples have always been part of the Indian life. Head for the hills for seeing a very impressive temple - Sri Chamundeshwari temple, located in the summit of a 1060 m high Chamundi hill. From the crest, you get to see a grand view of the Mysore city. This monolithic structure of Nandhi (calf) overlooks the white temple of Goddess Chamundeshwari.